Assessment: DITIB Hessen as Cooperation Partner for Islamic education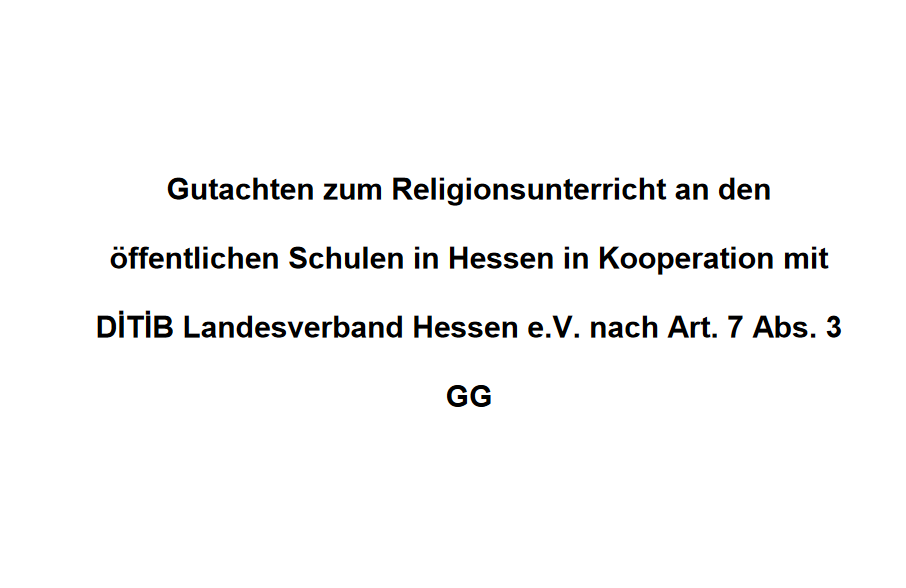 On behalf of the Hessen Ministry of Higher Education, Research and the Arts, Mathias Rohe, Islamic and legal scholar and director of EZIRE, has examined a possible influence of the Turkish-Islamic Union for Religious Affairs (DITIB) on the faith-oriented Islamic education in Hessen. Furthermore, Rohe has assessed if DITIB – as a cooperation partner for the state of Hessen and with regard to the establishment of religious education – has the required independence from the Turkish state.
In his assessment, Rohe emphasizes the missing indicators for the assumption that DITIB circulated political contents or interests of Turkey. He writes: "In the assessment, there were no indications that any of the Islamic education teachers or other individuals who participated in the performance of the education didn't or don't act in a law-abiding way." The establishment of the curricula for the Islamic education, which were designed with the help of scientific evaluation procedures and afterwards were presented to DITIB to check on the theological expertise, had been unproblematic. The involved scientists had evaluated the cooperation with DITIB positively, Rohe states. The evaluation of unannounced class visits in 2016 also had revealed a positive picture: The contacts between the teaching staff and DITIB Hessen was generally restricted to the acceptance of the teaching licence.
Rohe concludes that the implementation of Islamic religious education in Hessen "by all accounts takes place within the contentual and legal parameters".
However, in his assessment, Islamic scholar Rohe takes up on the theological and institutional linkage between DITIB Hessen and the Turkish religious authority Diyanet. For Rohe, it is obvious that "this institutional linkage generally enables political influencing". Thus, although the current cooperation praxis with regard to Islamic education had been examined as unproblematic, it was nevertheless important to establish a stronger institutional independence of DITIB from Diyanet. This independence became even more necessary when taking the ongoing downsizing of constitutionality in Turkey into account.