Constitutional Reform in Turkey: Providing an Objective Basis for Debate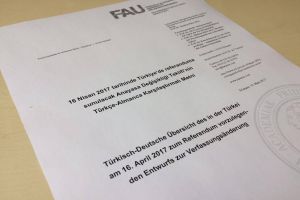 On April 16, Turkey holds a referendum on the planned constitutional reform. One of the aims of the reform is to abolish the post of the Turkish Prime Minister and transfer its actions to the post of the President. While the government in Ankara argues that such a step will help to strengthen the structures of the State as a whole and will help to prevent future coup attempts, critics argue that the seperation of powers will be weakened substantially. They fear that Turkey is becoming an autocratic regime.
In Germany, the constitutional reform is also discussed controversially. The research unit for Turkish Law at the FAU, cooperation partner of EZIRE,  has made it it's aim to provide an objective basis for debating the reform. The unit has translated all passages, which might be subject to change after April 16, from Turkish to German. Furthermore, the research team highlighted the concretely planned changes. The document aimed at contributing to the objectification of debate, says Ali Yarayan, honorary professor of Turkish Law and executive head of the research unit, in the German newspaper Badische Zeitung. At the moment, the debate was highly emotional. Nevertheless, the authors of the overview do not comment on the reform juridically or politically. Their only aim was to inform people.