EZIRE welcomes new colleagues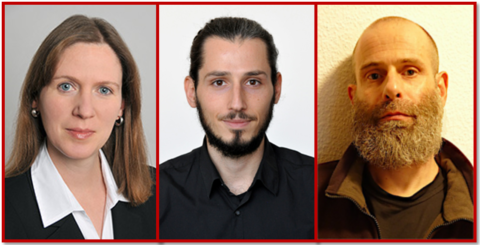 It is with great pleasure that we welcome Katja Thörner, Dominik Müller and Jan-Peter Hartung as new colleagues at the Erlangen Centre for Islam and Law in Europe (EZIRE).
Katja Thörner, who holds a PhD in philosophy, has been working at the FAU since 2017. At the Chair of Oriental Philology and Islamic Studies, she helped to develop the Bavarian Research Center for Interreligious Discourses BaFID, which she co-directed as scientific director until November 2021. From 2012 to 2017, she was a consultant for "Dialogue between World Religions and Worldviews" of the Eugen Biser Foundation, with which EZIRE closely cooperates in the project "Islamic Affairs Consultancy in Bavaria". As part of an intensified cooperation between BaFID and EZIRE, Katja Thörner will explore discourses and practices of Muslim-Jewish relations in Germany. Here she will be able to follow up on the long-standing work by EZIRE colleague Gerdien Jonker and substantially strengthen the multidisciplinary EZIRE team with her competencies in the philosophy of religion and interreligious dialogue, but also benefit from the wide-ranging social science expertise of the EZIRE.
Dominik Müller studied ethnology, Islamic studies and political science at the Universities of Basel and Zurich. Since 2013, Dominik Müller has been researching and teaching at the Institute for Social Anthropology and Empirical Cultural Studies at the University of Zurich. In the meantime, he was, among other things, a research associate at the Zurich University of Applied Sciences (ZHAW), a visiting scholar at Bilgi University in Istanbul, and a lecturer at the Swiss Centre for Islam and Society at the University of Freiburg i.Ü.. Through stays of several months in Central Asia, Ukraine, and Turkey as well as in the context of his dissertation project in Switzerland, Dominik Müller gained ample experience in ethnological field research. His dissertation dealt with the transmission of religious knowledge in everyday life and the negotiation of Islamic authority. His post-doctoral project at EZIRE will build on this and focus on transformation processes in Muslim organizations by diachronic and transnational research approaches.
Questions of (religious) authority are also part of Jan-Peter Hartung's broad field of research. In addition, Hartung, who holds a postdoctoral degree in Islamic Studies, is concerned with Islamic intellectual and religious history, particularly in the Persian-influenced cultural area. In the summer of 2022, Cambridge University Press will publish the book on his discourse-analytical study of the cultural history of Islamic activism in the "Pashtun borderlands" from the early modern period to the present. A future research project "From Norm to Practice: An Investigation of the Taliban Religious Universe" will tie on his current research. Further links for his future work at EZIRE lie in his research on socio-religious and political structures in alpine border regions. An international workshop on this topic, funded by the DFG, already took place at EZIRE from October 7 to 9, 2019. Here, Jan-Peter Hartung and Jörn Thielmann are working together in order to develop a collaborative project on religiosities in alpine border regions. Hartung completed a master's degree in Indology, philosophy and Central Asian studies at the University of Leipzig before earning his doctorate at the Max Weber College of the University of Erfurt. After teaching positions in Erfurt, Bonn, and Bochum, he moved to the United Kingdom, where he was a Reader at SOAS for over ten years and held teaching positions at the Institute of Ismaili Studies in London as well as the University of York. From 2017 to 2021, he was a research fellow in the ERC-funded research project "Private Pieties, Mundane Islam and New Forms of Muslim Religiosity: Impact on Contemporary Social and Political Dynamics" at the Institute of Ethnology, Georg August University of Göttingen.