Walks in Berlin marked by the Corona Virus
What are the schloars working in social sciences and humanities doing in times of Corona? Usually they work in libraries and archives or meet people for research interviews. In the case of the EZIRE, visits to mosques or associations are part of the daily work, as are presentations and seminars beyond the university. All of that has now come to a halt. As part of her work at the EZIRE, religious historian Dr. Gerdien Jonker has been researching the oldest mosque in Germany, the "Berlin mosque" of the Ahmadiyya Anjuman Lahore. Since the 1920s, this mosque has been intricately connected to Berlin and its residents. Only very recently, Dr Jonker has published her third book about her research – a worthy read during these days, which you can download here. The next part of her project would have involved intensive archival work, but those are all closed now. Instead, Gerdien Jonker is now doing what she has been practising every day for decades: She observes and describes. She has been collecting her daily explorations on her blog since March 18: Walks in Berlin marked by the Corono Virus.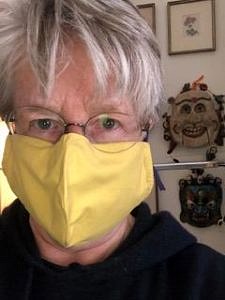 People are nodding to each other and giving way. Berlin, the gruffy old aunt, famous for its bluntness, she can turn it around after all.
Click here to go on unexpected discoveries through our increasingly surreal day-to-day.