"We have to communicate our legal system"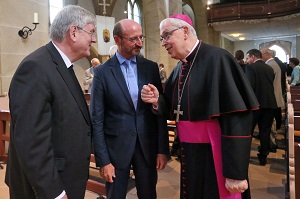 At the annual reception of bishop Trelle in Hildesheim, Prof. Mathias Rohe gave a speech on migration, integration and the German legal culture. "Our legal system has to be a blueprint of lasting peace", said Rohe, who is founding rector of the Erlangen centre for Islam and peace in Europe (EZIRE). More than 150 leading figures from church, society, science and politics as well as from administration, jurisprudence and media attended the event at bishop Trelles invitation.
In his lecture, Rohe discussed difficulties and chances of the current migration wave from the perspective of the German legal culture. With regard to the great number of refugees in Germany and the subsequently connected political and societal discussion he warned of solely seeing Muslims from the perspective of their religion and of being led by an "abstract fear of Isla"". Many people were open-minded when it comes to "Fatima, who is living just around the corner".
In regard to Islam, Rohe requests the religion to cope with the challenge of "other people having other opions". Islam was absolutely capable of doing so, says Rohe. Nevertheless, he stated that one could not deny the fact of some radical Muslims opposing a peaceful coexistence. The constitutional state was to proceed against these radicals with all possible means. Since many people were not familiar with the German legal system, it had to be communicated. Domestic violence, for instance, was seen as a privat matter in many societies. "Here, we have to make clear that we will not tolerate this behavior, since our legal system protects the weak. If we miss to do so, we will have people with different grades of protection in our country", the scientist stated. Our legal system had to provide variety but also a common protective frame that provided security and domicile for everybody.