Durgham Shtaya
Personal details
| | |
| --- | --- |
| 2009 | Bachelor of Geography, Faculty of Arts, An-Najah National University, Palestine |
| 2012 | Master of Geography, Faculty of Graduate Studies, An-Najah National University, Palestine |
Research profile
Political geography
Urban geography
Production of spaces
Geographic information systems (GIS)
Geographical statistics
Dissertation
Public Spaces in the City of Amman Between Urban Diversity and Segregation
During the last two decades, Amman city witnessed the emergence of new public spaces different than the traditional ones. Liberal globalized spaces emerged alongside Islamic conservative and traditional spaces in the old city. Such urban diversity could be considered as positive development on one side and a further pace to urban segregation.
The application of "Marginality Theory" rooted primarily in the political-economic analysis as well as the discrimination thesis, where particular cultural groups may choose not to engage in certain activities or visit certain public spaces because they do not feel welcome in the space due to the experience of discrimination or the expectation that discrimination will occur, so they prefer to segregate in spaces in their neighborhoods.
The study area covers three public spaces, Alabdaly, West Amman (to reflect Neoliberal globalized space), the traditional down town of Amman and Al Nasser neighborhood: in East Amman which represent Islamic spaces.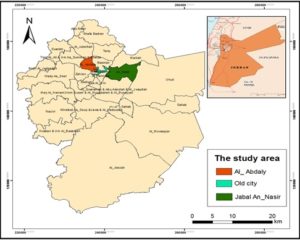 Publications
Regional Hypsometric Analysis of the Jordan Rift Drainage Basins (Jordan) Using Geographic Information System. Scientific Research Publishing Journal. Open Journal of Geology, 6, 1312-1343.
Choosing the best sites for Dumps in the West Bank by using Geographic information systems (GIS). DIRASAT JOURNAL: Human and social sciences.
"The Informal Economic Sector: The Street Venders in the Downtown of Amman- A Study of Economic Geography". In: Zarqa Journal for Research and Studies in Humanities(peer-reviewed).
Lectures and conference contributions
2017
German Oriental Studies Conference: 

Friedrich-Schiller Universität Jena, 18-22th September 2017. Lecture within 

Panel 29: "Changes in the Arab World: The interplay of the local, regional and national level" (19th September 2017): 

"Public Spaces in the City of Amman Between Urban Diversity and Social Disparity".
 Invited Lecture
Lecture on the Dissertation, International Conference "Reclaiming Public Space within Metropolitan Areas", German-Jordanian University & Universität Dortmund, 

Amman, 22-23rd November 2017.
Presentation und Discussion of his own research within different Research Seminars in Amman:
"Amman, history and urban morphology of antiquity": 27th September 2017, with Dr. Myriam Ababsa et al., Institut français du Proche-Orient IFPO.
"Identities and Arab National Security": October 2017, with Dr. Mohammad Abu Rumman, Center for Strategic Studies – The University of Jordan.
"Identity Crisis in the Era of Globalization": 30th October 2017, with  Abdelilah Belqeziz, Shoman Public Library.